What is Invisalign?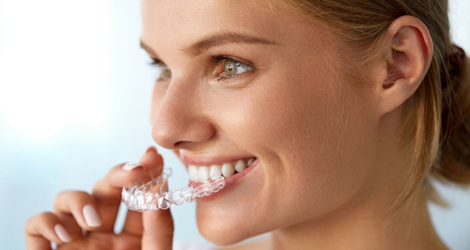 Invisalign is an effective alternative to braces. In this technology, custom-made, invisible and removable aligners are used. These aligners gently move your teeth until they get straight. You need to change them every 2 weeks as per your dentist's prescription.
We use 3D imaging to help you see the transition of your teeth. With a step by step process, we make sure you get the smile you always wanted.
Benefits of Invisalign
Invisalign allows your teeth to get to their original position. For those who do not have severely crooked teeth, it can just take up to 6 to 14 months to fix the teeth which is much less than conventional braces.
As compared to traditional braces, they are also more hygienic and comfortable. You can easily remove them every night to brush your teeth. They easily stick into your gums and don't cause any pain or much discomfort. Invisalign also promotes healthier gums and improve the overall oral health.
Invisalign Cost
The cost of Invisalign varies with the condition of teeth. Come to Smile Corner Dental in Orangeville for a FREE Consultation on Invisalign or Braces.